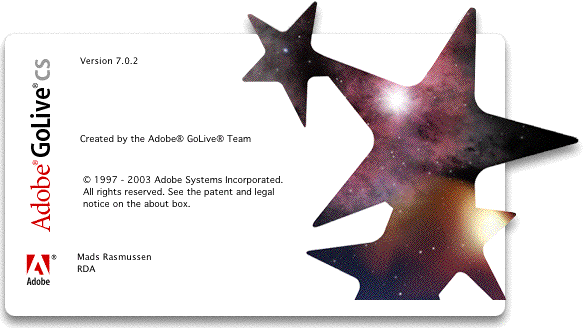 The intention with this booklet is to provide newcomers and experienced GoLive users with a better understanding of the use of Actions in GoLive (GL) and better understanding on how the Script Library work.
If you like to go in deeper with GL and have more samples. I suggest you purchase one of the great books written on GL 7 (If any).
Many of the features will work in previous versions of GL.
You are all on your own on these pages, NO support will be offered at all.
Enjoy!!
Best Regards
Mads Rasmussen - Author
Actions zip (You will need it)
Be sure to the read the "Read Me File".
Thanks to:
Nini Tjäder for good advise.
Rob Keniger, for letting me steal ;-).
This is written in and for Adobe GoLive 7.02.

I have chosen to use "Write Code into Page", so you are able to see how the code looks like in the Source.
I could have chosen the PDF format in favor of the HTML format. But, firstly, I hate PDF and secondly, this site is about GoLive CS which is my favorite application and for the web, so HTML comes natural.
---
"Adobe GoLive CS Actions for Newbies" - first edition
Publisher Mads Rasmussen - June 2004
Author/Layout: Mads Rasmussen
Copyrights © Mads Rasmussen.
All rights reserved including the right of reproduction in whole or in part or in any form in any media - You are allowed to have one copy in whole or in part on your HDD for personal use.
Adobe, the Adobe logo and GoLive are either registered trademarks of Adobe Systems Incorporated in the United States and/or other countries.